Listen to Black women. It saves lives and democracies.
That's precisely why we have highlighted some memorable quotes from Black women to mark the start of Women's History Month.
Brothers, here's what else you can do to celebrate women, this month and for the remainder of the year:
Offer words of love and encouragement to the ladies in your lives – your wives, mothers, sisters, daughters, aunts, and friends
Donate to organizations like these that support Black women and girls
Spend money at a woman-owned business in your area
Read books or watch movies made by women (These lists of books and movies are great places to start)
Or simply Cash App or Venmo coffee or lunch money to a woman you love to let them know you're thinking about them
Along with those suggestions, tap into these 31 inspiring quotes, which touch on everything from the importance of self-love to confronting your fears. Spoiler alert: You might be changed after reading this.
Quotes on Self Love & Happiness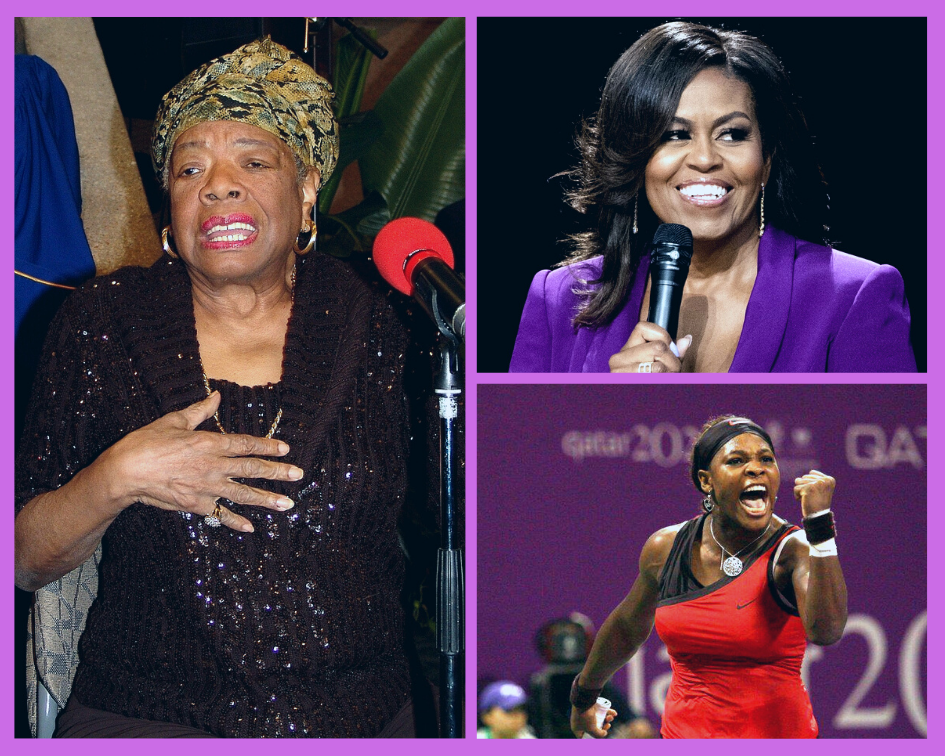 "Deal with yourself as an individual worthy of respect, and make everyone else deal with you the same way." – Nikki Giovanni
"Freeing yourself was one thing, claiming ownership of that freed self was another." — Toni Morrison
"A wise woman wishes to be no one's enemy; a wise woman refuses to be anyone's victim." ― Maya Angelou
"You know, you do need mentors, but in the end, you really just need to believe in yourself." — Diana Ross
"You have to believe in yourself when no one else does." — Serena Williams
"It was when I realized I needed to stop trying to be somebody else and be myself, I actually started to own, accept and love what I had." – Tracee Ellis Ross
"I am no longer accepting the things I cannot change. I am changing the things I cannot accept." ― Angela Davis
"Embrace what makes you unique, even if it makes others uncomfortable. I didn't have to become perfect because I've learned throughout my journey that perfection is the enemy of greatness." – Janelle Monae
"I don't have any time to stay up all night worrying about what someone who doesn't love me has to say about me." — Viola Davis
"Don't wait around for other people to be happy for you. Any Happiness you get you've got to make yourself."– Alice Walker
"If you prioritize yourself, you are going to save yourself." – Gabrielle Union
Quotes on Success & Empowerment
"I love to see a young girl go out and grab the world by the lapels. Life's a b*tch. You've got to go out and kick ass." — Maya Angelou
"You are on the eve of a complete victory. You can't go wrong. The world is behind you." – Josephine Baker
"Women and girls can do whatever they want. There is no limit to what we as women can accomplish." — Michelle Obama
"My mother did not raise me to ask for permission to lead." ― Ayanna Pressley
"Don't settle for average. Bring your best to the moment. Then, whether it fails or succeeds, at least you know you gave all you had. We need to live the best that's in us." – Angela Bassett
"Your willingness to look at your darkness is what empowers you to change."— Iyanla Vanzant
"You can be the lead in your own life." – Kerry Washington
"I'd rather regret the risks that didn't work out than the chances I didn't take at all." – Simone Biles
"Instead of looking at the past, I put myself ahead twenty years and try to look at what I need to do now in order to get there then." — Diana Ross
"I thrive on obstacles. If I'm told that it can't be told, then I push harder." – Issa Rae
"You've just got to follow your own path. You have to trust your heart and you have to listen to the warnings." ― Chaka Khan
Quotes on Community & Responsibility
"I am not free while any woman is unfree, even when her shackles are very different from my own." — Audre Lorde
"Each time a woman stands up for herself, without knowing it possibly, without claiming it, she stands up for all women." — Maya Angelou
"My mission in life is not merely to survive, but to thrive; and to do so with some passion, some compassion, some humor, and some style." ― Maya Angelou
You may not always have a comfortable life and you will not always be able to solve all of the world's problems at once but don't ever underestimate the importance you can have because history has shown us that courage can be contagious and hope can take on a life of its own." – Michelle Obama
These Quotes are Just "Facts"
"Where there is a woman there is magic." — Ntozake Shange
"Without justice there can be no love." — bell hooks
"If you are silent about your pain, they'll kill you and say you enjoyed it." — Zora Neale Hurston
"I have learned over the years that when one's mind is made up, this diminishes fear; knowing what must be done does away with fear." – Rosa Parks
"A crown, if it hurts us, is not worth wearing." — Pearl Bailey