Back in the 80s, it was so hard to get your hands on some good music that you had to go to a record store or order it from a TV commercial like this one.
And don't ask somebody to borrow that record or tape because you'd probably get a response like this one: "Noooo, my brother. You've got to buy your own."
Thankfully, in the age of streaming, you don't have to beg nobody for music. You can access it from your couch via the Internet or streaming subscription.
The only thing standing in your way of getting that music, is knowledge. But that's why we're here, to let you know about the albums by Black musicians you need to have in your collection. Consider this our good deed in honor of Black Music Month.
For this list, we included some obvious and not-so-obvious selections from artists you may have probably heard about. And before you jump into our inbox, we readily admit there are some very worthy selections we did not include. It has us thinking that we should put out a Part II of this list.
We'd also be remiss in not thanking the good folks who responded to this Facebook post and provided some worthy suggestions. Shout out to them.
Anyhow, without further ado – and in no particular order – here are 14 Black music albums you need to own.
No excuses.
Stevie Wonder – Songs in the Key of Life: Few artists deserve multiple mentions in the classic music category, but Mr. Wonderful has several. This sprawling double album full of bluesy and funky soul is an elixir for the head, heart and feet.
Aretha Franklin – Amazing Grace: The best live Gospel album of all time was record at a Los Angeles Church by the Queen, alongside Rev. James Cleveland and the Southern California Community Choir. This raw, gritty, otherworldly collection that centers one of the greatest artists of all time has caused many a non-believer to catch the spirit.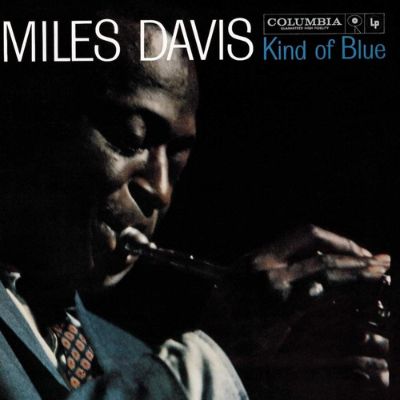 Miles Davis – Kind of Blue: If aliens visited this planet and asked to listen to some jazz, this would be the album to play them. It doesn't hurt that Davis assembled one of the greatest bands ever to craft this lush and sublime masterpiece.
John Coltrane – Giant Steps: Other worthy Coltrane selections like A Love Supreme and Blue Trane are worth mentioning. But this one is right there as one of the best jazz albums ever made – next to Kind of Blue. This moody and complex brew is buoyed by the tender yet dreamy "Naima," one of Coltrane's most beloved ballads.
Eric B. & Rakim – Paid in Full: Though this album dropped almost 35 years ago, it sounds as fresh today as it did back then. Rakim cements himself as one of the greatest emcees ever with his steely, sophisticated and precise rhyming. To hear this album being blasted out of Brooklyn car stereos during the summer of '87 was something to see. You had to be there to witness its omnipotence.
Mary J. Blige – My Life: The subtext of the songs that comprised this moody yet soulful record was clear: sis was going through it. But in the end, we got a classic 90s R&B album that was smooth, meditative and just plain dope.
Jodeci – Forever My Lady: If you were in high school in the early 90s, dollars to donuts this record was playing during those make out sessions in the car and slow grinds on the dancefloor. "Come & Talk to Me" soundtracked the daydreams about your high school crush.
Marvin Gaye – Let's Get It On: A group of researchers should conduct a demographic study centered around this theory: A significant portion of the Gen X African-American population was conceived to a Marvin Gaye record. The likeliest culprit is this simmering brew of silky slow jams. I Want You is another contender.
Whitney Houston – Whitney Houston: In this assured, self-titled debut, we would get bowled over by the soaring and triumphant voice of a nascent pop star who would become a phenomenon. Truly one of one. This lean, 10-track album of ballads and pop hits is the blueprint your favorite R&B divas continue to reference, whether they realize it or not.
Michael Jackson – Off the Wall: No, we didn't include Thriller. Does it deserve to be on this list? Absolutely. But we have to give it up for this LP that elevated disco and showcased this supernova. Another testament to this album's greatness is its ability to charge up dancefloors some 40-plus years after it was made. Unreal.
Lauryn Hill – The Miseducation of Lauryn Hill: At the height of her powers, few emcees could rap like Lauryn Hill and not many singers were as memorable. Her talents as a rapper, singer, songwriter, and producer were on full display. This record is a masterclass of musical virtuosity as she effortlessly elevates Hip-hop, neo-soul and pop damn near by herself.
Maxwell – Maxwell's Urban Hang Suite: This under-the-radar selection is one of the finest LPs to emerge from the Neo-soul era as it is stacked with sultry ballads, funky mid-tempo joints, and sophisticated R&B. True story: In college, I witnessed two guys have a sing-off to win the affections of a certain lady. They sung "Lonely's the Only Company." As cringeworthy as that sounds, it shows just how popular this record was. Can't remember who won the girl over, though.
A Tribe Called Quest – Midnight Marauders: MM is often regarded as Tribe's second-best album next to Low End Theory. Sure, Tribe's sound on here is more accessible and mainstream, but it's so flawlessly executed. "Electric Relaxation" and "Award Tour" are so damn funky. Again, this is another musical act who could have a second selection on this list.
Herbie Hancock – Head Hunters: Using the word gumbo to describe an album with a mélange of styles is cliché, but this one runs the gamut in terms of texture and genres. Only four tracks deep, each cut is its own world, melding jazz, funk and soul. "Watermelon Man" is chaotic in that it can go from funky to carefree to meditative in minutes. Also, it remains one of the most sampled records.
Sade – Love Deluxe: We're pretty sure you've heard songs from this record at the doctor's office or supermarket. But make no mistake, this smoldering set of sophisticated R&B remains the perfect complement to summer drives down the coast in the company of your beloved. As with previous works by this incredible band, the voice of its frontwoman and namesake remains as cool, emotive and alluring as ever. A marvel onto itself.